Omega Paradox #2-4
Moonstone Books
$4.99, color, 54 pgs. (#2/3 King Size Special)
$2.99, color, 32 pgs. (#4)
Writer: Ian Ng
Artists: Mark Sparacio, Abe Melendez Rivera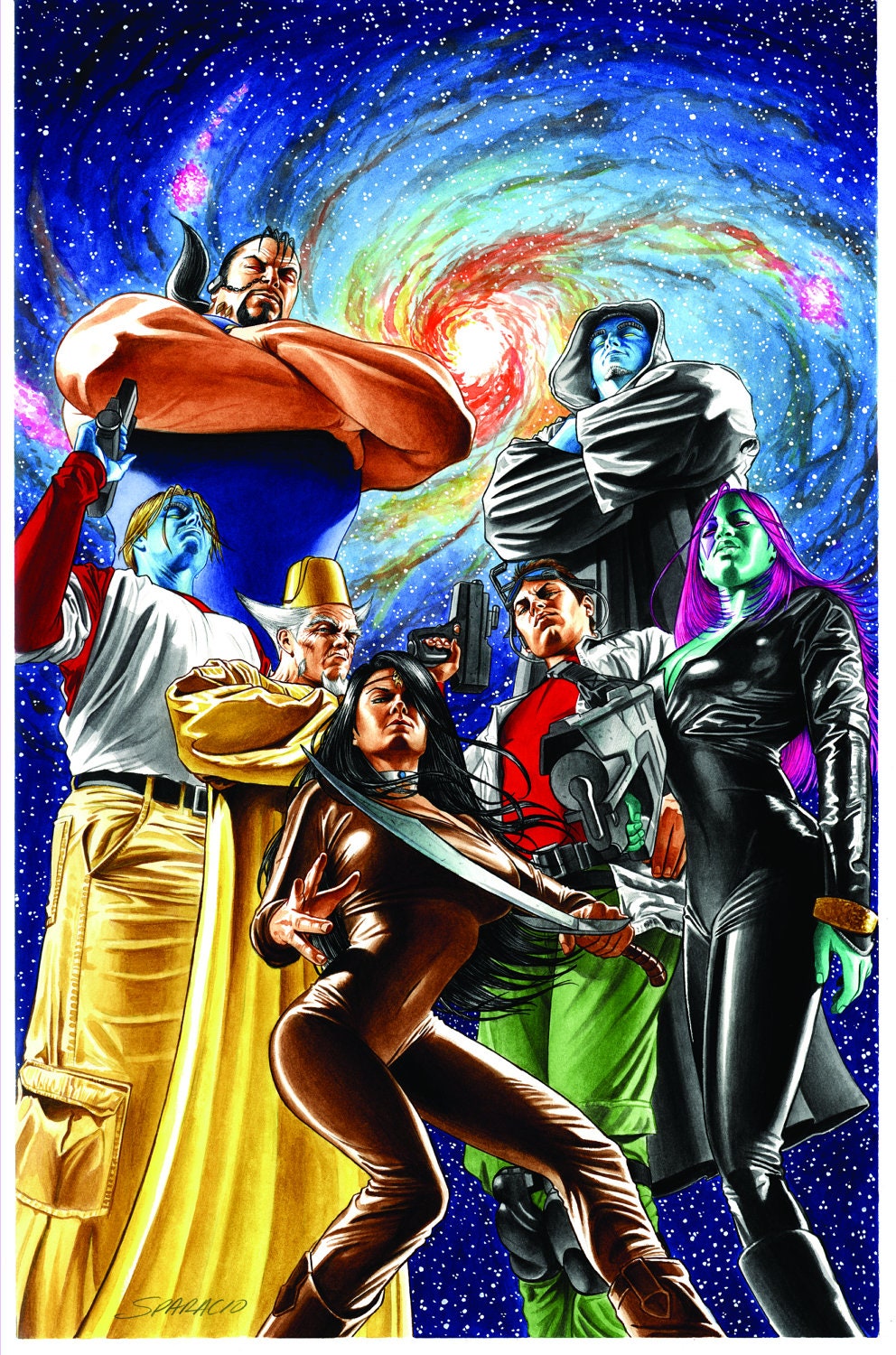 Omega Paradox #2-3 was reissued as a "King-Size Special" at last year's Motor City Comic Con.
The Omega Paradox team of Julian, Solarra, Malice, Gemma and Grinder continue their quest to locate a mystical device called the Eye of Ancev.

After rescuing Quintoro, the guardian of the Eye, they are ambushed in the Temple of Neak Prel by mercenaries that have their own plans for the Eye.
Team Leader Valerius believes the Eye is "the greatest power in the universe," so it becomes imperative to retrieve it before it falls into the wrong hands.

Valerius' agenda is clear, as he usually shows more concern about retrieving the Eye, than he does about the welfare of his own team.
Co-Creators Ian Ng and Mark Sparacio have promoted Omega Paradox at several comic conventions.
As the story progresses, the team gradually becomes a more cohesive unit.

Despite their differences, their genuine concern for each other starts to become apparent.
During the series' development, the creators promised that one character "may hold the key to keeping the universe together." Does the finale of the first story arc confirm that character's identity? Well, it does ends with a great cliffhanger leading into the next story arc, but I'm going to refrain from any spoilers...
Sparacio, Ng and Rivera have done an incredible job building these characters and their universe, and the artwork just keeps getting better. The good news for fans? It's just getting started. Sparacio has already provided details on the next story arc, which will be released this upcoming summer as a 128 page full color graphic novel. Writer Ian Ng has already completed the script for three out of the four chapters of the story. If that's not enough, the entire original series is being compiled into trade paperback format later this Spring. The trade edition will feature completely re-mastered colors by digital painter Abe Melendez, and will include the special "zero" issue in addition to all four issues of the original series.
As you may remember, I also had the pleasure of interviewing the entire creative team for the lead article in the January 2012 issue of Comics Buyer's Guide Magazine. If you're new to the world of Omega Paradox, check out the link below for the online version that will bring you up to speed, and then please "like" the Omega Paradox Facebook page for preview artwork and updates. Also "stay tuned" to the Secret Identity Comics blog for more reviews and news about Omega Paradox!
http://www.cbgxtra.com/comics-news-and-notes/the-genesis-of-omega-paradox
My interview with the Omega Paradox team was originally featured in CBG #1685.